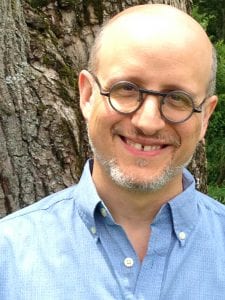 David Wolfson is a composer, music director, arranger, pianist and copyist who lives in New York City. He graduated from the Cleveland Institute of Music in 1985, and in that same year was the first recipient of the newly established Darius Milhaud Award and won the Bascom Little Fund's Musical Theatre Composition Competition for his short opera Rainwait. After many years attending the school of hard knocks, he transferred to Hunter College, graduating with an MA in music composition in 2013, and in 2018 was granted his PhD in composition by Rutgers University.
His compositional output has included music for dance and transdisciplinary performance and incidental music for plays; opera, musicals, children's musicals and comedy songs; song cycles, chamber music and music for orchestra; and one memorable score for an amusement park big-headed costumed character show.

From 2007-2010, Mr. Wolfson was the Associate Artistic Director, Music Director and resident composer of Experience Vocal Dance Company. His compositions for the company have been performed in Hannover, Germany, New York and London. His work with the company was supported by grants from the Puffin Foundation, the Manhattan Community Arts Fund and the Joyce Dutka Foundation.

From 1989-1992, Mr. Wolfson was resident composer and music director of EM/R Dance Co., a choreographer's collective. From 1993-1996, he was co-artistic director of Wichern/Wolfson dance & music, a company dedicated to performances involving both dance and live music. In connection with the company, Mr. Wolfson received several grants from Meet The Composer and a grant from the Music Program of the National Endowment for the Arts. Mr Wolfson's music for these companies was called 'brilliant' by the Cleveland Plain Dealer; the New York Times referred to it as 'musically inventive' and 'theatrically forceful.'

Mr. Wolfson was also the composer for Story Salad, a series of stage revues for children which was toured nationally for thirteen consecutive years by Maximillion Productions, and one year by Story Salad Productions, Inc. Story Salad was seen by well over a million children, teachers and parents.
In 2020 and 2021, Hartford Opera Theatre presented Fortune's Children, the first opera written to be performed live over Zoom, and its sequels Changing Fortunes and Family Fortunes.

2017 saw the premiere performances of The Faith Operas at Hartford Opera Theatre; Play Like a Winner (with Erik Johnke, book and lyrics) on the New York Musical Festival; and The Bet (with Tony Sportiello, book) on the Midtown International Theatre Festival. Mr. Wolfson's theatrical song cycle Dreamhouse, based on the poetry of Barbara DeCesare, also was presented at the Midtown International Theatre Festival in 2005.
In 2020 and 2021, Hartford Opera Theatre presented Fortune's Children, the first opera written to be performed live over Zoom, and its sequels Changing Fortunes and Family Fortunes.

In 2013 Albany Records released Seventeen Windows, a CD of his music, performed by pianist Jenny Lin and cellist Laura Bontrager. In addition, "Song For An Accident" from Dreamhouse was recorded by Tamra Hayden on her CD A Day At The Fair; the lullaby "Like Water" was recorded by EVDC principal artist Karen Jolicoeur on her CD The Dream That You Wish; and "Time and Tide: Benediction," for cello quartet, is the final cut on Suzanne Mueller's CD Solitaire.

Mr. Wolfson was the Music Director of the New York Theatrical Community Chorus from 2002-2007. He has served as music director and/or arranger/orchestrator for over sixty regional or Off-Broadway musicals and four Off-Broadway cast albums. In addition, he has played piano in the pits of twenty-five Broadway shows, and served as a rehearsal pianist, copyist or synthesizer programmer for productions in venues ranging from Broadway theatres to elementary school cafetoriums.