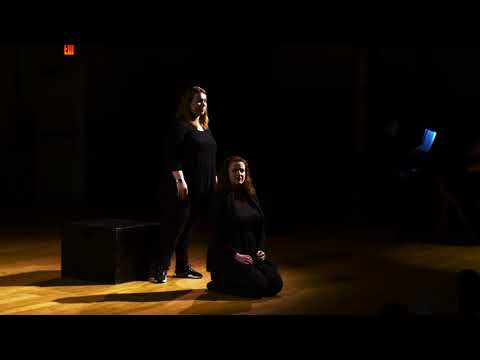 Director: Kristy Chambrelli. Conductor: Joseph Hodge
Cast: Julie DeVaere, mezzo-soprano; Tony Leathem, baritone; Lisabeth Miller, soprano; Gergory Zavracky, tenor.
Musicians: Luciana Arraes, Violin; Kayla Herrman, Cello; Blake Hansen, Piano.
The Faith Operas is an evening-length cycle of short operas on questions of contemporary religious faith, loosely based on true stories. It consists of three 10-15 minute operas—Maya's Ark, Rapture and A Fine Invention—and one 45-minute piece, Heaven's Gate. Each member of the cast of four singers appears in two or three of the operas.
Maya's Ark is about a woman who builds an ark in the parking lot of her church, and the minister of that church; it is a story of faith restored. Rapture is a about a woman who expects to be taken bodily up into heaven and her adult daughter; it is a story of faith destroyed. A Fine Invention is about a Christian Scientist couple whose child becomes gravely ill: faith challenged. And Heaven's Gate is about the cult of that name who committed mass suicide in the late 1990s, apparently believing that they would receive new bodies aboard an alien spacecraft: faith distorted.
The video here is of the premiere production by Hartford Opera Theatre, for which I am immensely grateful.
For Casey Robards' interview with me about The Faith Operas in National Opera Alliance's "Sacred in Opera" Initiative newsletter, click here.
Thompson Street Opera Company considered The Faith Operas for their 2020-21 season. While they didn't wind up programming it, I was very impressed with their statement about the piece, and they have graciously given me permission to include it here:
Unlike the many Biblical operas in the history of the operatic canon, The Faith Operas tells stories of religious practice interacting with flawed humans living in contemporary society. The work has four short acts, each telling different stories which can, in the composer's words, be summarized as "faith destroyed," "faith restored," "faith questioned" and "faith distorted."
At the core of the work is not faith itself, but instead, broad ideas of success and failure, and the excruciating complexity of human behavior. Humanity is both loving and cruel, manipulative and gullible, harsh and forgiving, self-conscious and insistent, creative and narrow-minded. The Faith Operas paints poignantly how these differing tendencies are reflected in the ways people interact with and craft their faith practices, sometimes resulting in hope and reconciliation, and sometimes in tragedy.
Religion has always been a fraught topic, particularly in our increasingly divided American society. Our goal with considering this work is to confront the layered social reality of vastly differing religious experiences with unflinching performances of these complex, human characters.