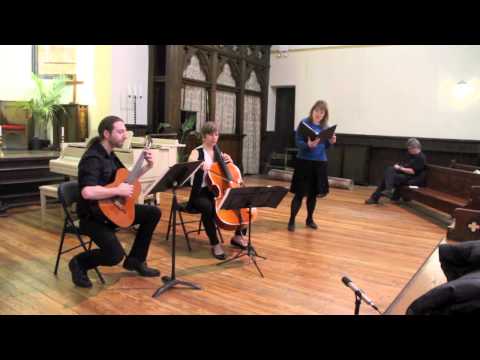 Composers Voice Series
Martha Sullivan, soprano
Gregg Rossetti, guitar
Laura Bontrager, cello
Jan Hus Church
A little chamber piece for soprano, cello and guitar. The performance at right is from a February 2015 concert in the Composers Voice series at Jan Hus Church. Martha Sullivan is the soprano, Gregg Rossetti plays guitar and Laura Bontrager is the cellist. Because of the acoustics of the room, it's difficult to get some of the words on this video, so text is below.
Often in the bleakest times of darkness
Someone comes who is the answer to a prayer.
They do not know the role they play
But each of them is to me an angel unawares.

The toddler with his reaching arms and sticky face;
The lovers folded in their overclose embrace;
The countless others in their tiny realms of grace;
They all are angels unawares.

The smallest word or deed can be a rescue,
Awakening, unlocking what was captive to despair.
A momentary glimpse of perfect freedom,
And when I turn to utter thanks no one is there.

How many of us owe our lives to strangers' smiles?
How many have been helped across unending miles?
How many have seen victory in bitter trials
Because of angels unawares?

The strangers who have saved my life don't know it,
Just as I don't know how I've affected theirs.
I tumble through my life without an inkling
If I have ever been an angel unawares.