Story Salad
Story Salad
was a series of music revues for children based on children's picture books, with adaptations and lyrics by Peggy Traktman and music by David Wolfson. It toured nationally for thirteen years, produced by Maximillion Productions, for most of that time playing about 250 performances a year. The shows toured with four actors, a pianist, and a multitude of costumes and props.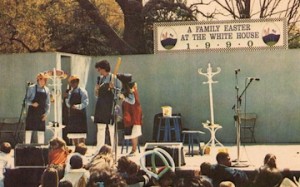 Story Salad at the White House, 1990
The recordings are from a concert performance at Merkin Concert Hall in New York City, and feature Andrew White, Andrew Sellon, Joanne Lessner and Eileen Moore, with David Wolfson at the piano.