One minute of fame
I just returned from Jan Hus Church, where the Composer's Voice series (presented by Vox Novus) is presented two Sundays a month at 1 pm. Today's concert featured the West Point Woodwind Quintet playing their "Fifteen-minutes-of-fame." One minute of those fifteen was mine.
"Fifteen-minutes-of-fame" (hereinafter FMOF) is the brainchild of Rob Voisey, the founder of Vox Novus, and Douglas DaSilva, the curator of the Composer's Voice series. It's an offshoot of Rob's hugely successful "60×60″ project, in which he stitches together "mixes" of 60 one-minute recorded pieces submitted by various composers into hour-long concerts. FMOF consists of fifteen acoustic one-minute pieces, usually on a theme, all composed specifically for a given performer or ensemble, and selected from scores submitted to those performers. They are then performed on a Composer's Voice concert—and wherever else the performers want to do them.
So for the composer, it's a little competition—you write the piece without having any idea whether yours will be selected or not. My record so far is two for five—besides the West Point Woodwind Quintet, the Piercy/Hickman Duo (clarinet/piano) selected my piece Calligraphy Circle and performed it earlier this month. My entries for harp, violin/cello duo and marimba/flute duo were (sob) passed over. I haven't yet found a use for these orphaned miniatures; perhaps someday they'll be the seeds of longer pieces.
Hearing your music played in this context is a slightly surreal experience. Today, for instance, my piece Hurrah!  was tenth in the West Point Woodwind Quintet's set. (The theme they had specified was "the Civil War," in honor of the sesquicentennial of same.) They played the pieces back to back, pausing only to turn pages or switch instruments between pieces. There's no applause until the end—and although the names and composers of all the pieces are printed in the program, in order, human memory is such that it's virtually impossible to keep them all separate in your mind. Unless your piece is first, or last, or has a  gimmick of some sort (such as Born Equal by Juan Maria Solare, in which the players spoke, dividing two five-word sentences among them), it's not going to carve out its own individual identity.
So in essence you've contributed to—what? A medley? That's not quite it, because there are silences between the pieces. A folio, perhaps. I'm reminded of museum exhibits devoted to schools or movements, in which an artist might have one painting hung in a roomful of work by other people. The analogy's not exact, because museumgoers can linger by a painting, whereas concertgoers can't linger by a piece. The point is that it's different than the usual ritual for a composer, where the piece has your name on it, and whatever small glory is refracted from the performers is yours to bask in after a performance. When the members of the quintet acknowledged the composers after the performance, five people stood, and of course no one had any idea who had written each piece. Which was fine, because (as I mentioned before) most likely no one remembered much about any of the individual pieces anyway.
But you can hear Hurrah! all on its lonesome right here: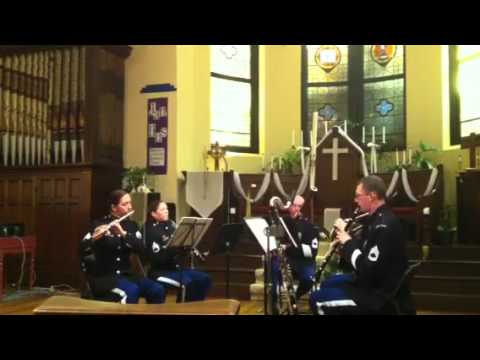 4 Responses to One minute of fame